Pharmacy Pre-Matriculation Enrollment is Now Open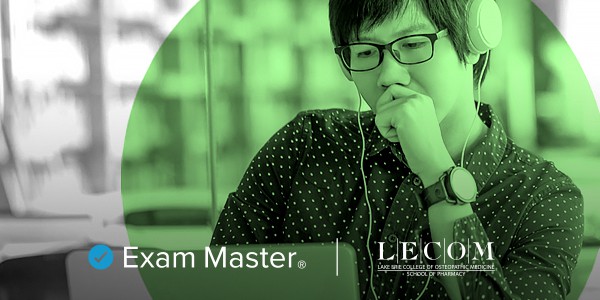 After months of collaborative work, we are pleased to announce that our Pharmacy Pre-Matriculation Success program is now open for enrollment. This new program was developed in collaboration with Lake Erie College of Osteopathic Medicine's School of Pharmacy. The program's core purpose is to provide new pharmacy students an important refresher in 9 foundational subjects so they are better prepared for the critical didactic phase of pharmacy school. Particular focus was given to those topics within the core subjects deemed most important in linking foundational concepts to the more complex material students will need to learn.
Exam Master built on the foundation set by LECOM with the development of its own "home-grown" pre-matriculation program for their new students. We have added important additional subjects (biochemistry and microbiology, for example) and developed additional quiz questions, a baseline assessment, and course summative exams. Together, this package provides over 30 hours of student study and review time, covering approximately 150 targeted learning objectives across the 9 subjects.
The foundation of the program starts with an initial baseline assessment, currently 120 items, designed to measure a student's general knowledge in the foundational subjects of Math, General Chemistry, General Biology, Organic Chemistry, Biochemistry, Physiology, and Microbiology. After the initial baseline assessment, students dive into the subject learning modules for study and review. Practice questions help measure progress and provide formative feedback. Each subject module is capped with a summative assessment to measure learning and build confidence.
Putting together a program like this presented a number of challenges. First, the program is generally designed to be taken by students before they officially start their classes, making it somewhat voluntary in nature. The length and the scope of the program had to be sufficient enough to offer value and substance to the students, but not so intense that new students might be reluctant to dive in. Of course, pharmacy schools can choose how they want to manage student involvement with the pre-matriculation course.
Determining what to cover in the program was another unique challenge. The limitations of time and the need for proper focus demanded that subjects and content be carefully selected. Practically all pharmacy educators express to us their concern that their incoming students need to be stronger in math and related subjects, but there is not always agreement on what other subjects to include. From our research and conversations with pharmacy educators, however, a core set of subjects emerged as most important and typically required by pharmacy schools for admission.
The program is based on core learning objectives identified in each subject. The goal was to have pharmacy educators make informed judgments about what topics and concepts in each subject are most important for the student to understand. We used a ranking process to help with the topic selection. Over the next several years, we—and many of our clients—will collaboratively analyze the results and feedback from students to ensure we have the most relevant and impactful mix of content.
We want to thank Dr. Hershey Bell and Hailey Kwiatkowski from LECOM for all of their help and support of this project. Additional information about the program is available here and here.