Supporting the Lifecycle of PAs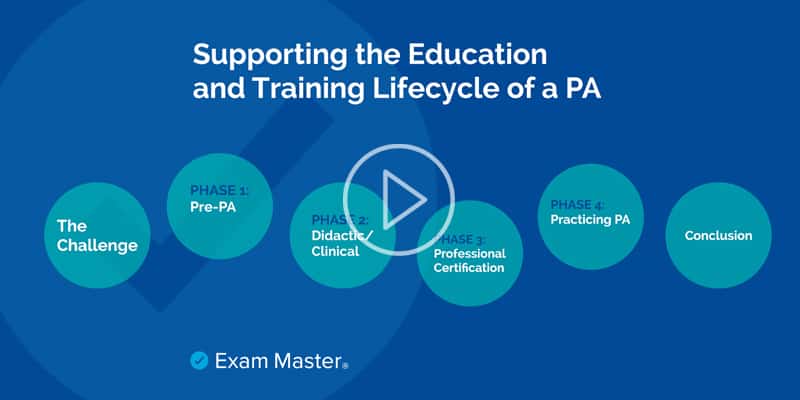 For over 15 years, Exam Master has supported Physician Assistant education, training, and certification. Preparing for education and training for a Physician Assistant career can be demanding and rigorous. As one of the fastest-growing professions in the world, Physician Assistant programs are tasked with producing large numbers of properly trained and competent PAs that can use their knowledge to understand and solve clinical challenges to promote the health and wellbeing of their patients. To show themselves competent, students must be able to apply the vast amounts of knowledge acquired to understand and solve clinical challenges. From acquiring initial knowledge and training to recertification, Exam Master provides resources that help PAs navigate their journey.
Supporting all Phases of the PA Lifecycle
Beginning with the Pre-PA phase, Exam Master provides incoming PA students with resources to prepare for entering PA school. For programs, we have developed the Physician Assistant College Admissions Test (PA-CAT) to test applicant prerequisite knowledge as a component of the admissions process. We recognize the importance of readiness for PA school, so we developed a PA Academic Readiness Assessment for after the PA-CAT. This assessment helps programs and students further identify what areas they may need to focus on improving in order to be successful in the program. The readiness assessment and the PA-CAT are resources for students and programs that allow them to test their knowledge. After testing students and identifying important knowledge gaps, it is important to provide resources to remediate those gaps. Our PA Pre-Matriculation program provides students refresher courses in important prerequisite subjects for PA school. Students can review information and quiz themselves to prepare for the didactic year of their program. This Pre-Matriculation program can be used before students begin their didactic curriculum or in the first days of their program.
Resources to Assist the PA Journey
The Didactic/Clinical phase is typically 27 months of allocating student and educator time, energy, and resources. Exam Master provides resources for the didactic/clinical phase of their education such as remediation and self-study resources. These resources, plus our systems-based clinical question banks will allow students the opportunity to continue to remediate the knowledge gaps as they are learning in their classes and clinicals. While the resources help students during their education and during the study process for the PANCE, we also provide resources specifically dedicated to professional certification. Designed and updated based on the 2019 NCCPA blueprint, our PANCE/PANRE High-Yield question banks can be used to effectively study to pass the certification exams. We also provide special practice exams for both the PANCE and the PANRE, as well as a Common Medications Review.
Practicing PAs are often in search of resources to assist them with preparing for recertification exams and CME hours. Our practicing PA resources include academic support for PA educators and our partner products with Emory University. We partnered with Emory University to develop high-yield resources for practicing PAs. Our systems-based CME review and our Category I AAPA CME Self-Assessment provide practicing PAs with review information and 38+ CME hours. The Emory University products are regularly updated and provide practicing PAs with an efficient way to get their CME hours.
We were planning to attend various PA conferences around the country, but unfortunately, the COVID-19 pandemic has canceled many in-person events. In place of an in-person meeting, we have developed an informational video that reviews how we support the PA community with our resources. Click here to view our Lifecycle of a PA video! If you would like to further the conversation about Exam Master's PA resources, contact us!