PAEA Education Forum Conversations and Feedback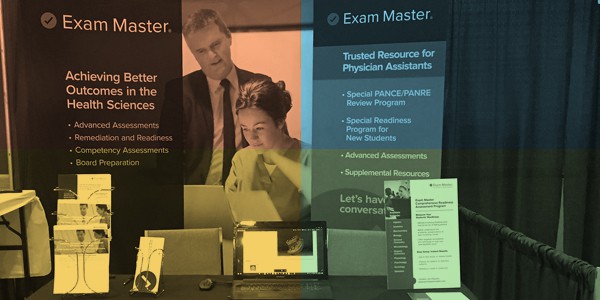 Denver's weather was predictably unpredictable, warm one day, snow flurries the next! We had an opportunity to have many conversations with PA educators and given our involvement with and commitment to the PA community, we would like to share some of that with you.
Is Exam Master making a difference for PA programs?
One of the big benefits of being at PAEA was the opportunity it gave us to meet with many of our PA clients. We need to hear how are they doing, what are their struggles, are we making a difference for them? Fortunately, the overall answer was that by and large, our clients are satisfied or very satisfied with how we support them. We received very positive feedback at the conference. But, we are not perfect, and we know we have work to do to stay relevant to the PA community we've worked so hard to serve. We have developed specific plans to better support PA program going into 2018. Details will be forthcoming, but please feel free to reach out if you would like to provide more input as to what you need or what we should be working on.
Click here for a summary list of the resources we presently have available for PA programs.
Readiness Program
We received genuine interest in our readiness program which is designed to help PA programs better assess what their students know in the core pre-requisite subject material (e.g. anatomy, physiology, etc.) prior to starting class. It seems to us that PA programs work hard to develop and improve admissions processes, but these are not perfect. And, without a national admissions exam, it can be difficult to get a handle on the academic preparedness of an incoming cohort without some sort of thorough baselines assessment. We help with this and it was good to see interest from the PA folks we met with. More information is available here.
Growth in PA Programs
As we all know, there has been and continues to be tremendous growth in the PA profession and the number of programs supporting the profession. This raises numerous challenges and opportunities for the PA community. We have a special assessment capacity-building program designed to help PA programs that are still seeking or under provisional accreditation, and at a point before they have enrolled their students. Contact us for more information on how we can help your new PA program.
Assessing Critical Thinking and Clinical Decision-Making
One of the resources we presented at PAEA was a new tool for assessing students' ability to apply what they have learned and think critically. This resource is based on the use of what we call Advanced Multiple Response questions, a test question that is more challenging than multiple choice, requires the examinee to think through a problem to answer correctly and can include a critical failure component, important when clinical competence is being assessed. We have samples of these questions if you would like to learn more.
Turnover, Recruitment, Changes in Leadership
One of the constants we've seen in the PA community in the over ten years we've been serving it is the frequent turnover and mobility of PA educators as they move from one program to another. This certainly presents challenges with maintaining program continuity, a situation made more challenging by the rapid increase in new programs. We are also seeing the challenges of when non-educator clinicians become faculty and have to learn the art of instruction and motivation. We can help with some of these challenges by helping new faculty get up to speed with assessment, and by providing assessment, preparation, and remediation resources that help support program continuity and high outcomes.
We had many more conversations at PAEA on a wide variety of topics. Bottom line is we are grateful to be of service, and please let us know how we can better support your program. For more information on any of our activities and plans for 2018, please feel free to reach out.